Old Fashioned Cocktail Kit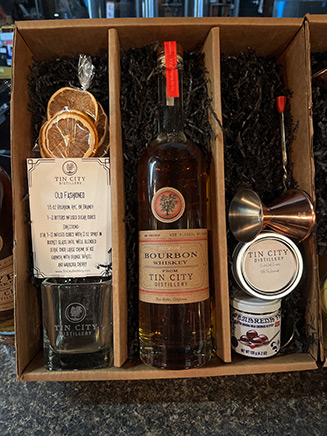 Eleavate your cocktail game with our Old Fashioned Cocktail Making Kit. Crafted for connoisseurs, it features your choice of Tin CIty Bourbon, Tin City Rye or Wine Shine Brandy, providing the perfect base for the classic Old Fashioned.
Enhance your experience with Maraska cherries, adding a sweet, elegant touch. Angostura bitters-infused sugar cubes offer a balanced flavor profile, while our jigger and cocktail spoon help you mix like a pro.
Delight in the citrusy twist of dehydrated orange wheels, making each sip an experience. Follow our included instructions to craft a flawless Old Fashioned. And don't forget the branded logo bucket glass.
Whether it's a gift or a treat for yourself, this kit embodies tradition and craftmanship. Create your masterpiece, raise your glass, and savor the timeless elegance of the Old Fashioned. Order your today and celebrate in style!