Bloody Mary Cocktail Kit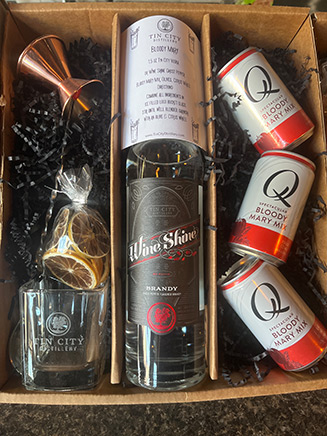 Unleash the bold and zesty flavors of a Bloody Mary with our all-in-one Cocktail Making Kit. Choose your spirit adventure with options like Tin City Vodka, Neutral Brandy, or the famous Ghost Pepper Brandy.
Our kit includes a professional cocktail spoon and jigger for precise mixing, ensuring your Bloody Mary is just right. Sip in style with the exclusive logo bucket glass, adding an extra touch of elegance to your drink.
You'll also receive step-by-step instructions, making crafting your perfect Bloody Mary a breeze. But the magic doesn't stop there. Our kit comes complete with a gourmet Bloody Mary mix that's bursting with flavors and a curated bag of garnishes for that perfect finishing touch.
This kit is perfect for both enthusiasts and newcomers to the Bloody Mary world. Elevate your brunch, entertain your friends, or enjoy a solo cocktail moment